We now offer sanitization services!
Family owned and operated in Marble Falls for two generations
Is your furnace acting up, blowing cold air, or making too much noise? Don't get left in the cold! Our experienced team of professionals is here to keep your home or business warm and cozy.
All About Air is the leading company for all of your air conditioning and cooling needs. Our technicians are qualified professionals who will get the job done right for your home or business.
Regular HVAC maintenance not only increases the reliability and efficiency of your equipment, it also extends its lifetime. Protect your investment with a maintenance agreement.
We are proud to offer sanitization services for your home, office, or business. Contact All About Air today to learn more about how we can help get your "business back in business!"
More than 100 years ago, Edwin Ruud, a Norwegian mechanical engineer, came to America and developed the first successful automatic water heater. That early success marked the beginning of a tradition of innovation and value that led to the introduction of RUUD heating and air conditioning equipment in the 1950s. Since then, RUUD has grown into one of North America's largest manufacturers of quality heating, cooling, and water heating products for residential and light commercial use. Today, RUUD operates manufacturing facilities employing highly-trained workers and state-of-the-art equipment. Over the years, the product lines have expanded, changed, and improved significantly as new design techniques and better manufacturing technologies have become available. What remains unchanged throughout our history, however, is our commitment to producing the most reliable, long-lasting, efficient equipment you can buy.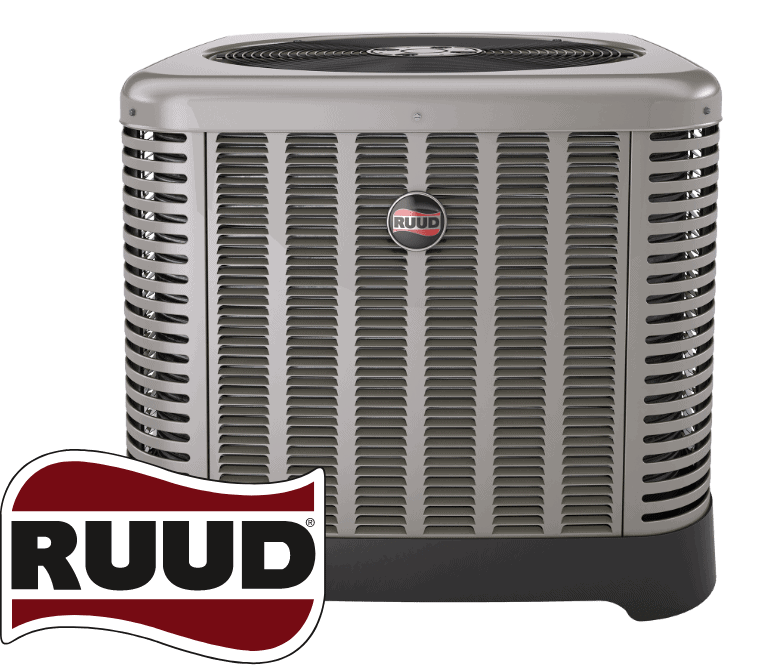 see what our customers are saying
Heat Pump Replacement in Horseshoe Bay, TX 78657
"This is my second major experience on replacement of old AC/Heat Pump units at my home. It was another wonderful experience working with All About Air to help guide me to the right decision on replacing two old 1999 vintage units at my house. We were out of town and All About Air completed the installations within 3 days from the time they issued us the 3 options to consider. They videoed both inside and outside the house as well as provided commentary on our existing systems which was very valuable in our decision making to finally replace the old units. Their advise on what we needed to consider in our final decision was very professional and informative! I have been using All About Air for all my AC and heating maintenance since November 2018 since they did a great job on the replacement of our biggest unit at the house. They are a great company full of nice people that truly work with their customers to meet their needs. Thank you, All About Air! Special thanks to both Brian and Brandon for the honestly and experience!"
- John S.
Air Conditioner Repair in Burnet, TX 78611
"Chris has been to our home twice in the last year. Both times he has quickly identified the problem and made the necessary repairs. He listens to concerns and provides reasonable explanations. He is trustworthy and highly respectful."
- Michelle W.
Air Conditioner Maintenance in Marble Falls, TX 78654
"Chris did a fantastic and attention to detail job. Very pleased with the service."
- Julia L.
WE OFFER FINANCING TOO!
Al About Air offers financing through GreenSky and we've got several plans to choose from.
WE OFFER FINANCING TOO!
Al About Air offers financing through GreenSky and we've got several plans to choose from.
Need Maintenance Service?
See a list of all the memberships we offer to see how you can save money.