All About Air Proudly Supports the Marble Falls Community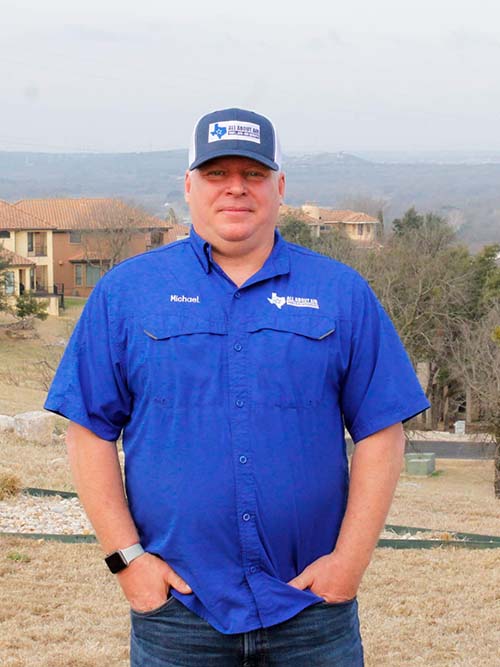 Michael St. Cricq
Service Technician/Install
14 Reviews
Air Conditioner Installation in Horseshoe Bay, TX 78654
"excellent, we were happy about service, speed of installation and getting it done"
- Diane W.
Air Conditioner Maintenance in Kingsland, TX 78639
"Michael was on time, fixed the problem and went above and beyond to repair it. Very professional."
- Dale K.
Air Conditioner Replacement in Marble Falls, TX 78654
"Outstanding! In a time where it seems so hard to find good quality service, this company does it right!!! Michael came out on an after hours call, on a Friday evening, temps were triple digits and he took care of business in a professional, personable, and a much appreciated manner. You would have thought it was a cool 72 degrees outside and we were his first customer. From the time we called in for the service request, until the time Michael left our house, the customer service was great and the execution of the work matched! Thank you Michael and thanks to everyone that took care of our service call."
- Corey M.
Heat Pump Replacement in Kingsland, TX 78639
"Michael, Jimmy and Jacob replaced my old units last week with heat pumps. Their work was outstanding. They were very friendly and totally met, if not exceeded, my expectations for customer service. Would highly recommend them to others for service."
- Larry B.
Air Conditioner Installation in Granite Shoals, TX 78654
"We have an air BNB property and received a call that our unit went out. The owner went out immediately upon my call on Memorial Day. He realized it was beyond repair, in order to keep our renters cool, the owner made a trip to put in a couple of window units in the interim while we discussed options. His team was able to get in to install the new unit in between check out and check in from our guests. The team completed the work and was very communicative and was clean and tidy understanding our unique situation. I would highly recommend this company. They went above and beyond in all areas of there service. 5 star!!!! Thank you to you and your team."
- Aaron S.
Air Conditioner Maintenance in Burnet, TX 78611
"Michael is thorough and detailed
Excellant service"
- ROB S.
Air Conditioner Repair in Horseshoe Bay, TX 78654
"Michael was excellent service provider. Work completed on time at the original cost estimate. Thanks"
- William K.
Air Conditioner Installation in Spicewood, TX 75032
"OMG but these guys are THE BEST! I am sooo glad I listened to my "gut" when I met the owner, Brandon, to get our second bid for this huge job ahead of us, for he was honest and direct…exactly what I wanted. Over the course of the time involved, we got to know the guys well, and loved them all!!!! In fact, I think I will MISS them now that they're done! LOL They were SO completely thorough! They always put us first in their priorities in order to do the job RIGHT and literally OVERDELIVERED on their promise! Thank you Michael for overseeing and mentoring your team … in the end, doing a great job to problem-solve what would have otherwise been a very difficult experience! Truly, you are the BEST!"
- Sandy J.
Air Conditioner Maintenance in Kingsland, TX 78639
"Always thorough and polite. The company goes an extra mile to make sure we are informed, but not salesy. Always respectful of our house and put tarps down and wear masks. Pictures of units helps to see what they are talking about when an issue may arise."
- Elaine L.
Air Conditioner Maintenance in Marble Falls, TX 78654
"Michael does excellent work".
- Mike L.