All About Air Proudly Supports the Marble Falls Community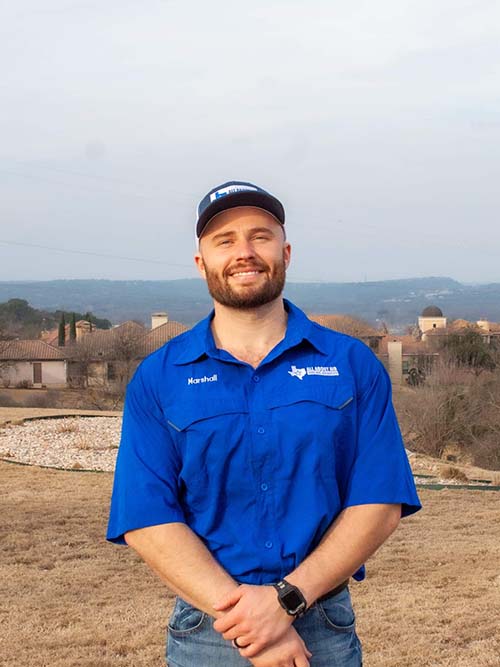 Marshall Payne
Lead Install
21 Reviews
Maintenance in Burnet, TX 78611
"Marshall came to perform the six month checkup. He found a capacitor was not working correctly so replaced it"
- Brian W.
Air Conditioner Maintenance in Kingsland, TX 78639
"Marshall was great! Professional and knowledgeable! Did an outstanding job!"
- Susan W.
Air Conditioner Maintenance in Burnet, TX 78611
"Marshall was excellent! Quick and thorough service, and he was able to identify some potential issues that we could correct before a failure. In Texas summer, an ounce of prevention is worth a thousand pounds of cure, especially when it comes to keeping your home cool and comfortable!"
- Ryan L.
Air Conditioner Maintenance in Marble Falls, TX 78654
"Marshall was amazing. He came to do maintenance on my air conditioner and was very professional and thorough. It was the first time we had maintenance done on the unit. He found two potential problems that I wanted taken care of right away. I am very pleased with the service and impressed with this company. Would highly recommend."
- Nancy M.
Air Conditioner Repair in Horseshoe Bay, TX 78756
- Sheri E.
Air Conditioner Repair in Spicewood, TX 78669
"Marshall notified us prior to arrival. Arrived on time. Listen to our explanation of the issue. He clearly knew what needed to be done and within 30 minutes of arrival, the AC started cooling down.
He was professional in his actions, paciente in listening and explaining the problem found and correcting it. Friendly and respectful. We were so impressed by his actions that we signed up for the maintenance of our system with a local company that works and lives in our community. We received true customer service from Marshall."
- Oscar F.
Air Conditioner Repair in Marble Falls, TX 78654
"Punctual and professional."
- Alex L.
Air Conditioner Maintenance in Horseshoe Bay, TX 78657
"We recently had our semi-annual maintenance check. All About Air has always been great to work with and this visit was no exception. Marshall was prompt, courteous, and explained all the work clearly. I have recommended All About Air many, many times!"
- Joleen B.
Air Conditioner Maintenance in Horseshoe Bay, TX 78657
"With a really hot Texas summer coming I needed a spring checkup on my air conditioner. I called All About Air and I was assigned Marshall. He is young, enthusiastic and thorough. He checked out my system and pronounced it good to go which makes me feel better going into the summer that my ac will perform as expected. Thank you Marshall!"
- Steve S.
Air Conditioner Replacement in Meadowlakes, TX 78654
"We've been with All About Air for about six years now, and we've never been disappointed with the quality of service. When our present unit bit the dust a couple of weeks ago, we called All About Air of course. We had no heat, but the weather was mild and we were comfortable. The team wasted no time, anyway, in getting us back on the road. Marshall and his crew showed up as scheduled and worked from about 8:30 a.m. to well after dark installing our new RUUD system. It was a bear of a project, getting the old system removed and out of the way, then putting the new system together and tweaking it so it performed up to their standards. We have full confidence in All About Air, and Marshall, et al, lived up to their good reputation–again! Thanks, guys and gals. In our estimation, you are Number 1 in technical know-how, customer service, respect for customer property, quality of parts and services, and reliability. Trust takes time to create, and it must be nurtured over the long haul. All About Air obviously knows how to do it the right way, and we're grateful."
- Barry C.